Bike Trail Development Project
CONNECTING OUR COMMUNITIES THROUGH RECREATION, HEALTH & WELLNESS
Ribbon Cutting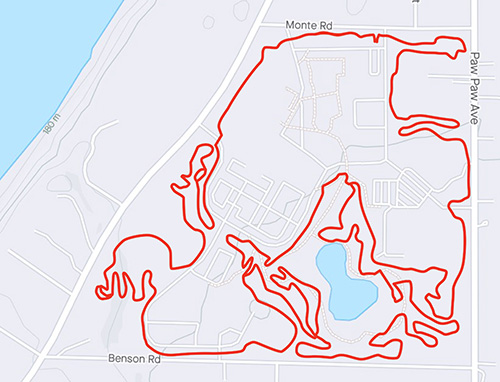 Building paths to success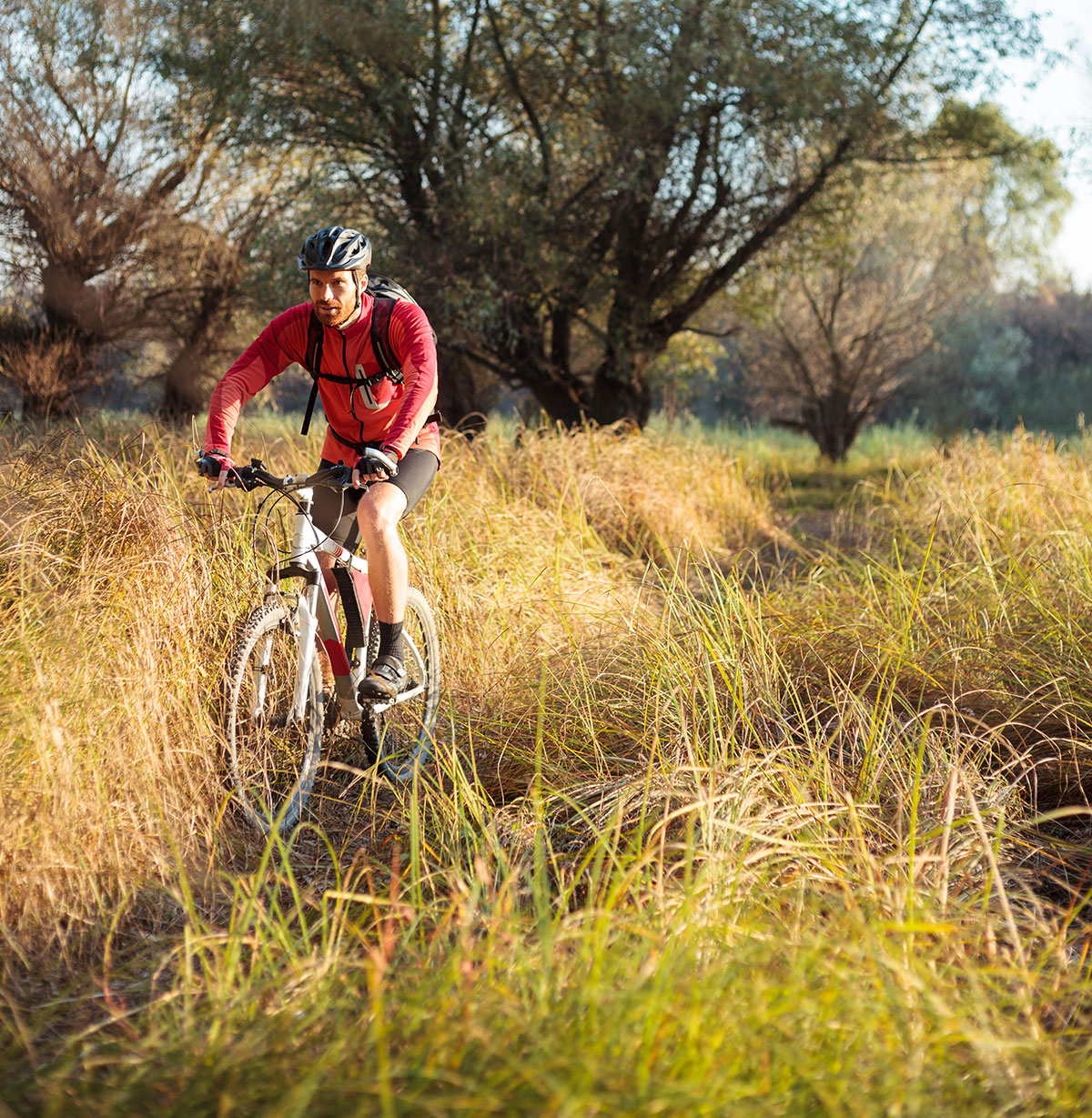 Bicycle trails increase the health and wellness of the community, as well as the quality of life in adjoining neighborhoods.
Trails can increase home values. A study of the Colorado State Trails program found that 57% of those surveyed felt the trails would make their homes easier to sell, and 73% of real estate agents polled felt proximity to trails made homes easier to sell.
Creating trails that connect businesses in St. Joseph, Benton Harbor and Benton Charter Township will encourage employees to use bicycles to commute to work, reducing road wear, traffic congestion and air/noise pollution, as well as reducing the overall carbon footprint of those facilities. A Michigan Department of Transportation (MDOT) study showed that 28% of bicyclists commute by bicycle to work at least twice a week, and 39% of households reported that someone in their home used a bike for transportation in the last year.
Designated trails for biking increase the safety of riders and walkers (especially children), taking them off of busy main roads and creating safer streets for all commuters.
Biking trails increase accessibility to local parks, green spaces and other amenities for the disabled and increase accessibility to workplaces and local businesses for those who do not own automobiles, aiding two underrepresented populations.
Input from the community

This project will enhance our community by giving Township residents more ways to get outside and enjoy the natural beauty of our area, as well as increase the value of homes along the trail.
CATHY YATES
Benton Charter Township Supervisor
There is a benefit to health, wellness and recreation, and also in connecting the different parts of our community to local businesses, public parks and beaches, allowing everyone to fully access and enjoy this beautiful part of the state.
MICHAEL GAREY
City of St. Joseph Mayor
These trails appeal to residents and visitors, providing a significant addition to and connection with the variety of recreational opportunities in the area. Trail users will be able to enjoy the natural beauty of Lake Michigan and the surrounding parks, beaches, and green spaces.
JILL ADAMS
Berrien County Parks
and Recreation Director
Improved trails help residents of the communities in many ways. There is a portion of the community who may not have automobiles and commute to work, school or businesses via bicycle. They will see a lot of benefit from having safe, accessible trails to ride on.
MARCUS MUHAMMAD
City of Benton Harbor Mayor
This project is part of a route that is one of eight major connectors in the MDOT Southwest Michigan Region Non-Motorized Plan, and will allow visitors and residents to see more of our beautiful, scenic community.
GARY WOOD
Friends of Berrien County
Trails President
Answering questions from the community
WHY BUILD THESE TRAILS?
There are many benefits to creating biking trails. In addition to increasing health and wellness, they attract new members of the community who want to have their homes near the trails, and reduce traffic and pollution by switching portions of the population from automobile commuting to bicycle commuting. They also increase traffic safety by taking bicycles off of public roads.
WHO WILL PAY FOR THIS PROJECT?
The project team is currently seeking funding and support from multiple sources. Those sources include a sizable investment by Whirlpool Corporation, along with grants and other public funding.
HOW LONG WILL IT TAKE?
The project is set to break ground in fall of 2021 with multiple phases over the next three to four years, depending upon availability of the growing number of grants specifically designed for multi-modal trails, including for bike trails, available from state and federal resources.
WILL THIS DAMAGE OUR PROPERTY VALUES?
No. Many studies show that biking trails actually enhance home values in the communities where they are established. Realtors indicated that homes along the Paint Creek Trail in Michigan were selling for 10% more than comparable homes not located along the path.
WHAT ABOUT MY PRIVACY IF THESE TRAILS RUN PAST MY HOME?
Public trails are located in the easement or right of way close to the road.
WHO WILL BE RESPONSIBLE FOR MAINTAINING THE TRAILS?
This will be handled by a combination of not-for-profit spending and funds dedicated for parks and recreation, including funds from local government, and will not require any maintenance by the homeowner other than normal lawn maintenance.
WHAT ABOUT SAFETY CONCERNS WITH ALL THIS INCREASED BICYCLE TRAFFIC ON THE EDGES OF THE ROADWAY?
While crashes involving pedestrians and cyclists make up only 1.3% of the Southwest Region's total crashes, they account for 18.3% of fatal crashes and 10.9% of serious injury crashes (between 2013-2017; Michigan Crash Facts). Incorporating well-designed bicycle trails encourages predictable behavior and alerts motorists to their presence, thus improving safety for all roadway users.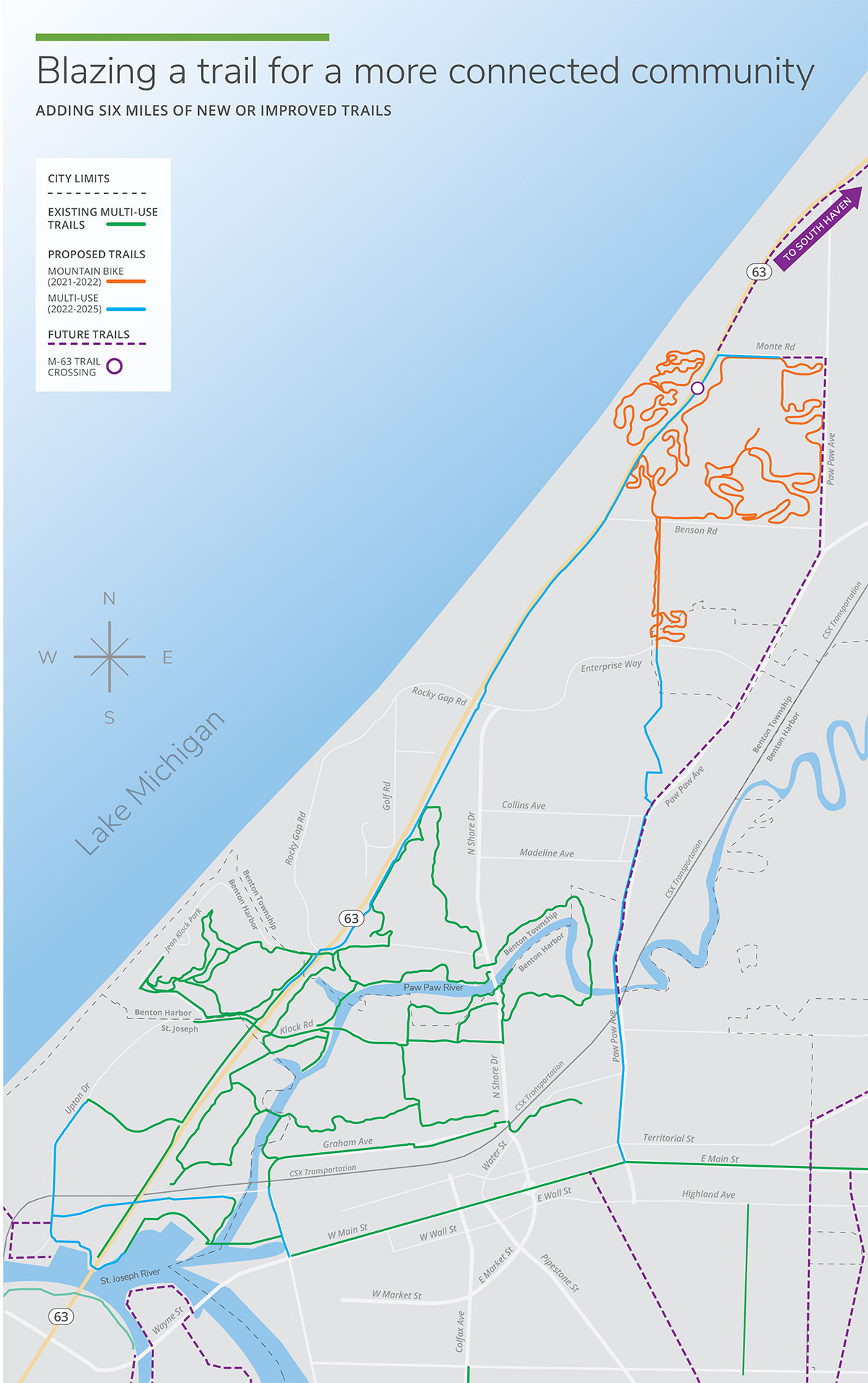 Download trail map